Gossip #1
The Dark Knight Rises – Batman's Vehicle Revealed?
The clip, taken near the set of The Dark Knight Rises in Pittsburgh, Penn., shows what appears to be a Bat Plane or Bat Wing that flies down a city street on a hydraulic rig.
WATCH: The Dark Knight Rises Teaser Trailer
Earlier this month, Christian Bale andTom Hardy shot scenes in character as Batman and Bane for the Christopher Nolan-directed action flick, which will be released July 20, 2012.
WHAT DO YOU THINK of Batman's possible new ride?
Gossip #2
Remember when we said that after a variety of production snags, Johnny Depp's big screen version of The Lone Ranger was in the works?
We take it back.
Disney has reportedly pulled the plug on the flick, and although there's no official reason, sources close to production claim that director Gore Verbinski and the studio bigwigs could not agree on a budget! Combine that with the lackluster success of Cowboys & Aliens, and the movie was basically screwed!
Too bad! We would have loved to see our boy get down and dirty in the old west!
Disney's high-profile remake of "The Lone Ranger" has ridden into the sunset, at least in its current configuration. That long-gestating movie project — starring Johnny Depp as Tonto, produced by Jerry Bruckheimer and directed by Gore Verbinski — was expected to start shooting in October in New Mexico. But Walt Disney Studios pulled the plug late Friday after reaching an impasse with the filmmakers over costs, according to an industry official briefed on the matter who asked for anonymity because the details of the shutdown were considered private.
A Disney spokesman declined to comment. Disney, according to the official, was willing to spend $200 million — still an enormous amount of money for a western, which is perhaps Hollywood's riskiest genre — but Mr. Bruckheimer and his team had sought a budget closer to $250 million. Hi-yo Silver and a-waaay with the entire project?
Perhaps, but there is also a chance that the budgets could magically align now that Disney has started playing hardball. The shutdown notably comes three days after Disney's studio reported a 60 percent drop in quarterly operating profit and Robert A. Iger, the company's chief executive, told analysts, "It's our intention to take a very careful look at what films cost."
Gossip #3
Five Dead in Indiana State Fair Stage Collapse at Sugarland Gig
It's a heartland heartbreaker for Sugarland fans at an Indiana State Fair concert.
Severe weather left four dead when high winds blew concert scaffolding onto the front rows, as the country band waited to take the stage. Dozens were reportedly injured according to reports, and an eyewitness who works for WANE-TV in Fort Wayne, Ind., described the harrowing scene pictured in the video above:
"The wind just picked up and the stage just caught and the roof just caught and it went up like a sail and then it crashed forward into the people standing in the front. There were people trapped underneath and everyone was running and screaming," said Kirby Ehler of local NewsChannel 15. "They were asking any medics or nurses not to leave."
The National Weather Service had issued a hazardous weather alert for central Indiana, warning of heavy rain and thunderstorms. The alert stated, "thunderstorms may be severe with damaging winds and large hail as the main threats." Adding, "the storms will also produce dangerous lightning and brief heavy rainfall."
Reportedly wind gusts of 60 to 70 miles per hour struck the area causing the collapse as thousands of fans waited for the headliners to take the stage.
According to the Indianapolis Department of Public Safety, at least 40 people have been transported to area hospitals. Those concerned for family and friends are urged to check redcross.org for a list of those injured.
BREAKING NEWS…more details as they become available.
Gossip #4
Hillary Duff is pregnant!
Hilary Duff's first wedding anniversary is extra sweet: she and Mike Comrie announced they are expecting a baby!
"This weekend, Mike and I are celebrating our one year anniversary! In memory of the special day, we decided to post some of our favorite pictures from our wedding!" she wrote on her official website Sunday.
"I can't believe it has already been a year. Time really flies when you're having fun! We also want to share the exciting news that baby makes three! We are extremely happy and ready to start this new chapter of our lives. Thanks to everyone for the continued love and support throughout the years!"
Duff, 23, wed pro hockey player Comrie, 30, on August 14, 2010 in an intimate sunset ceremony at a $29 million estate near the San Ysidro Ranch in Montecito, Calif.
"We both love kids and we're really excited," Duff told Us Weekly Wednesday at the Kendra Scott jewelry event in L.A., just days before sharing her pregnancy news with the world. "It was a big deal for us because we had a year to be married."
Gossip #5
Girls rock especially at the 2011 MTV Video Music awards.  In a male dominated industry, artists like Katy Perry, Adele, Beyonce, Nicki Minaj and Lady Gaga are representing for the ladies!
This year musicians and artists will duke it out to be crowned the king & queen of popular music at the 2011 MTV Video Music Awards airing on Sunday, August 28 at 9PM (ET/PT). Leading the pack is Katy Perry with nine nominations including "Video of the Year" and "Best Female Video for her hit, Firework. Right behind Perry is U.K. bred soul singer Adele with a well deserved seven nominations including Video of the Year and Best Direction in a video for Rolling in the Deep off her sophomore album "21?.
Other artists up for awards include Kanye West with seven nominations, Bruno Mars with four nominations, Beyoncé, Eminem, Lady Gaga, Nicki Minaj, and Thirty Seconds To Mars with three nominations each and Beastie Boys, Chris Brown, Pitbull and Lil Wayne who have two nominations.
Gossip #5
Miranda Cosgrove is safe and well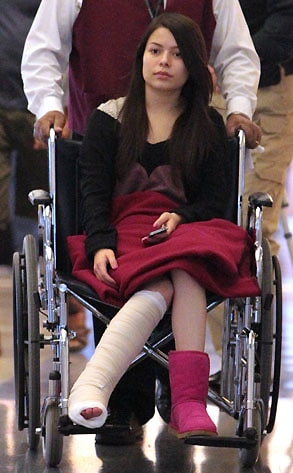 Following a frightening tour bus accidentThursday morning, Miranda Cosgrovepopped up at Los Angeles International Airport sitting in a wheelchair with her broken ankle in a cast. 
 
The 18-year-old iCarly star suffered a fractured right ankle and toe after her bus collided with a tractor trailer in Illinois while she was en route to a concert in Kansas.
Leave A Message
Messages
Powered by Facebook Comments