Gossip #1
'Friday' Singer Rebecca Black to Be Homeschooled After Constant Verbal Bullying
Being popular on the internet isn't necessarily a good thing.
 Internet sensation and recent Teen Choice Award winner for Best Web Star,  Rebecca Black has chosen to be homeschooled to get away from constant verbal bullying, the singer told ABC News in an interview scheduled to air Wednesday night.
Black, 14, rose to fame earlier this year when her music video "Friday" quickly gained over 100 million hits on YouTube, though she has been widely derided for the song's cheesy lyrics and her uncharismatic performance of it.
"When I walk by they'll start singing 'Friday' in a really nasally voice," Black told ABC News of her experiences at school. "Or, you know, they'll be like, 'Oh hey, Rebecca, guess what day it is?'"
Black's mother Georgina Marquez endorsed the homeschooling decision due to the taunting and because her daughter needs more time to focus on her career.
"She certainly did not need that kind of pressure," Marquez told ABC News.
Black, whose has been tapped to appear in the latest Katy Perry video and who also brought home an MTV Teen Choice award for Choice Web Star last weekend, told the network fame has not changed her much.
"It's hard because everyone wants to say 'Oh my God, I'm this big star now,'" Black said. "But I don't see it that way. I'm still the same 14-year-old girl that loves to hang out with her friends."
Gossip #2
Justin Bieber Earning Reputation for Being Hollywood's Biggest Brat
Teen sensation Justin Bieber has built his empire on being a squeaky clean pop prince with a baby face and vocal talents that routinely bring millions of screaming girls to their knees – but behind the lights and cameras many are accusing him of beingHollywood's biggest brat.
A source told FOX411's Pop Tarts that on a recent flight from Los Angeles to Asia, the Canada native, 17, caused quite the ruckus. According to the eyewitness seated close by, Bieber refused to cooperate with flight staff when they asked him to take his seat in preparation for takeoff.
"He then gave the staff a really hard time the whole flight, nobody could believe it," said the source. "And then at the end, the Captain introduced himself to Justin and kindly asked for an autograph, and he rudely refused."
But this most recent incident is hardly the first time the Biebs has been accused of having a seriously bad attitude.
Bieber later defended himself against the allegations, tweeting: "hearing adults spread lies and rumors is part of the job I guess. But all I have to say is… kill em with kindness. So everyone keeps smiling."
A few months ago, the "Never Say Never" star again came under fire for snubbing a fan who patiently and excitedly waited at the airport for him to depart the Philippines, but once again took to Twitter to announce he was really sick at the time. But soon thereafter a video went viral on the Internet, showing the child star ignoring another dedicated fan at the Ninoy Aquino International Airport who requested a CD be autographed.
Other rumors include reports that he shoved a female photographer after she got too close to him and he has also been snapped flipping off the paparazzi.
But is Biebs' skyrocket into national fame at such a young age the culprit for his alleged bad attitude? At least one behavioral expert says it's absolutely so.
Dr.  Patrick Wanis claims these not-so-admirable actions are often the result of a young star being spoiled by handlers, parents and fans.
 "I do think it is possible to keep Justin grounded in show business, although it requires the delicate balance of encouragement and validation, and a reminder that he is still human with flaws and imperfections," Wanis said. "Justin really needs to be surrounded by childhood friends who will still treat him as one of the gang instead of God."
Los Angeles-based psychologist, Dr. Nancy Irwin also adds that Bieber's behavior is no different than the average teenager.
"The brain is not even fully developed until the age of around 25, and the last part of the brain to mature is the executive/decision-making center," she said. "Second, kids are naturally narcissistic. He really hasn't done anything that many 'bratty teenagers' in America do. They simply do not have the spotlight on them."
I don't know, i'd rather say, give the kid a break. He's having it hard as it is, being a child star.
Gossip #3
Charlie Sheen Just as Curious About His Death Scene on Men.
Just like legions of TV fans around the country, Charlie Sheen is already setting his DVR for September 19's Two and a Half Men premiere.
Sure, he was fired from the series in March, but the actor says he can't wait to tune in anyway to see his character Charlie Harper's funeral. "Who's not going to watch? I'll be there front and center. I'm just as curious as everybody else," Sheen, 45.
Deadline.com reported last week that on the new season's first episode — a two-parter that taped Friday — Harper's ex-girlfriends will return to remember him and his Malibu beach house will be put on the market. Celebrity cameos will play a part in the episode, with stars appearing as potential buyers of Harper's old digs.
Though he endured a bad break from Men, Sheen wishes his former colleagues well. "I'm actually rooting hard for them and that worm is turning. It should be exciting. It'll be nice to know that they get some carry-over ratings from people being sort of curious about what happened to their guy."
When it comes to Men's new star, Ashton Kutcher — who will play internet billionaire Walden Schmidt — Sheen is equally as optimistic. "I think Ashton's gonna kill it," he told Extra.
Gossip #4
Jennifer Lopez and Marc Anthony will never reconcile!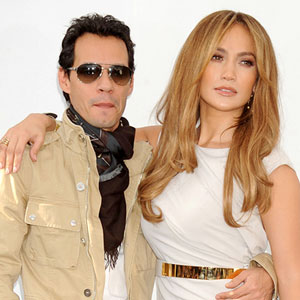 Even though reps say the get-together was only a chance for the split couple to be with their children, others are actually getting their hopes up, wondering if this means the divorce lawyers will be called off.
Don't count on it.
"I don't know about him," said a good friend to the handsome couple, "but she's done—as she should be. Do you have any idea what she put up with?"
Yes. And we've contacted Lopez and Anthony's reps before about accusations of controlling and obsessive behavior on Marc's part, but never heard back. We heard that just took its toll on Lopez—and then some.
"[Jennifer] would never go back to Marc," the couple's mutual friend practically seethed. "Never."
OK then, good to know. Which raises the question: who will J.Lo hook up with next? Because the girl's made it quite clear: She does not like to be alone and loves to be in love!
Any guesses who's next, folks?
Gossip #5
X factor judge Paula Abdul makes some serious Diva Demands on set!
Straight up: Anyone interested in getting hired as Paula Abdul's assistant should get ready to tend to a kooky list of daily demands.
Among the 49-year-old "X Factor" judge's requests, according to an insider?
PHOTOS: What celeb was Paula's former roomie?
Each assistant must carry and use a tape recorder at all times "because she doesn't trust her own conversations," the source says.
"She also makes them check the TiVo for any mention of her and put it on a DVD."
PHOTOS: Paula's wackiest outfits
Abdul team members should also prepare to go through her email — and respond to family and friends as the star herself.
The "Forever Your Girl" singer also needed constant reminders that she is a "warrior, survivor and gift," adds the insider.
Gossip #7
The need for a Cellphone surpasses even the most primal intimate need???
Face it, we're in the need it now age. If we can't get it at our fingertips in 10 seconds or less, it's not worth having. That's why, for most of us, our most committed relationship is with a small, rectangular object that we keep on our person at all times for emergencies, pleasure and the occasional conversation.
Yes, whether you have a smart phone, iPhone, Blackberry or an archaic Palm Pilot, right now you have a mobile phone on your person. You'd be hard pressed to find anyone without one. But the bigger question is, could you live without it? Could you put that phone in a drawer in your house and leave it there for an entire week and go without texting or Twitter or even calling people from your car?
So which is more important your love life or your phone? You tell me.
Gossip #8
Wet and Pale. Breaking Dawn Edward and Bella bare it all
In this week's issue of Entertainment Weekly, the stars of November's The Twilight Saga: Breaking Dawn — Part 1 discuss how they approached key scenes in the film, from the tense walk down the aisle to the pillow-shredding honeymoon, to the bloody, ghastly climax. But you don't have to be a Twihard to enjoy EW's Fall Movie Preview, which dishes on the biggest and best films opening before the end of the year. Some highlights:
If you read the internet then I'm not spoiling anything for you, but basically Bella and Edward have to get married before they are allowed to sleep together (because the author of the books is super religious. Go figure.) and once they finally do-the-deed Edward nearly breaks the bed apart because of his vampire strength passion. He literally shreds the bed into splinters, because nothing says sexy like bedsores. 
Robert Pattinson, who plays vampire Edward, jokes to Entertainment Weekly on how he wishedthe scene unfolded, "I wanted to have it as a line so much, 'I bit through all the pillows. Every. Single. One,'" he told the Magazine. "And then [Edward would] start crying. By the way, that's what he should be ashamed of in the morning. All those beautiful pillows! Egyptian cotton! I ruined this bed!" 
That's actually really funny. Dammit Rpatz, funny and hot? I can't deal. 
Anyways, real life and onscreen lovers Robert Pattinson and Kristen Stewart coveredEntertainment Weekly to talk about the upcoming "Breaking Dawn" film, which is being delivered in two parts as there's so much juicy vampire drama to be contained in just one film. 
While Rob said the sex scene was his favorite to film (Uhh der I wonder why) Kristen said the wedding scene left her speechless. 
"It's a trip to watch the wedding scenes, especially," she says, "it was so volatile and emotional – I was being such a crazy person." 
The films director Bill Condon said he wanted the scenes to be that raw, "We shot everything — whether it's the lovemaking or the childbirth — as potent and powerful as it can be," he told EW, "It will be interesting to see whether there will be people who think it too disturbing for this universe." 
Yah, another not-so-spoiler-alert, Bella gets knocked up with a half-vampire baby and Edward has to rip open Bella's stomach with his teeth, even though Edwards dad is a doctor? When I read this I was like "WTF" but saying it out loud, this is some "Bride of Chucky" bullsh-t. 
Good luck to Summit Entertainment trying to maintain a PG-13 rating and still show a violent sex scene and a bloody childbirth. Also, did I mention these films are based off of children's books?